New: Peer Writing Coaches
How Can We Help?  Being able to write well requires being able to stand back from what you have written and experience it freshly from the outside. Put another way, writing well requires being able to hear your writing as it actually sounds…not just as you intended it to sound. That's where we come in. Our job is to be that listening ear and then to tell you what we hear. This will help you discover how a reader understands what you have written. Once you know how a reader understands what you have written you will know what you need to revise to get your ideas across clearly.
Who Are We? We are a group of senior psychology undergraduate students taking a third year course in Professionalism and Communication in Psychology.
How Do I See a Peer Writing Coach? If you want a careful listener to tell you what they took away from your writing – so you can understand what impact your writing is having – then show up for one of the drop-in sessions below. Simply come with a piece of writing you have worked on recently. Unfortunately, we can't be too much help if your assignment is due really soon. Our kind of help is most useful for early stages of writing.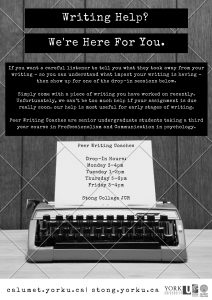 KAHSSO Peer Tutoring
KAHSSO (Kinesiology and Health Science Student Organization), in collaboration with Stong College and SCSG (Stong College Student Government), is offering Free Peer Tutoring service to core KINE courses: KINE 1000, KINE 1020, KINE 2011, KINE 2031, KINE 2049, KINE 2050, KINE 3000, KINE 3012, KINE 3020, KINE 3030, KINE 4010 and KINE 4020.
Location: SC 111 (JCR)
For more details and peer tutoring hours, please refer to their website.
UPSA Peer Tutoring
The Undergraduate Psychology Students' Association (UPSA) at York University, in collaboration with Calumet College, is proud to provide tutoring services to all undergraduate psychology students who need a little extra help in their courses! Some of the faculty's most exceptional students volunteer their time and dedication to ensure that everyone has an opportunity to excel in their studies.
Semester Tutoring
UPSA offers free one-on-one tutoring services for those who sign up on a semester basis. Applicants will be matched with a tutor for the course they desire based on availability.
Drop-In Tutoring
Location: SC 111 (JCR)
Free drop-in tutoring for PSYC 1010 and PSYC 2020 hosted around test times. Hours are posted below. Please check the
UPSA Facebook page
for any changes to the schedule or for further information.
Looking for a Tutor or Study Group?
The Study Hub listings area is a separate site where students can:
start or find a study group
connect with fee-for-service tutors or
 tutors can advertise their services
Although the university does not vet or verify information posted on the site, it can be an excellent resource for connecting with other people interested in study groups and tutoring.