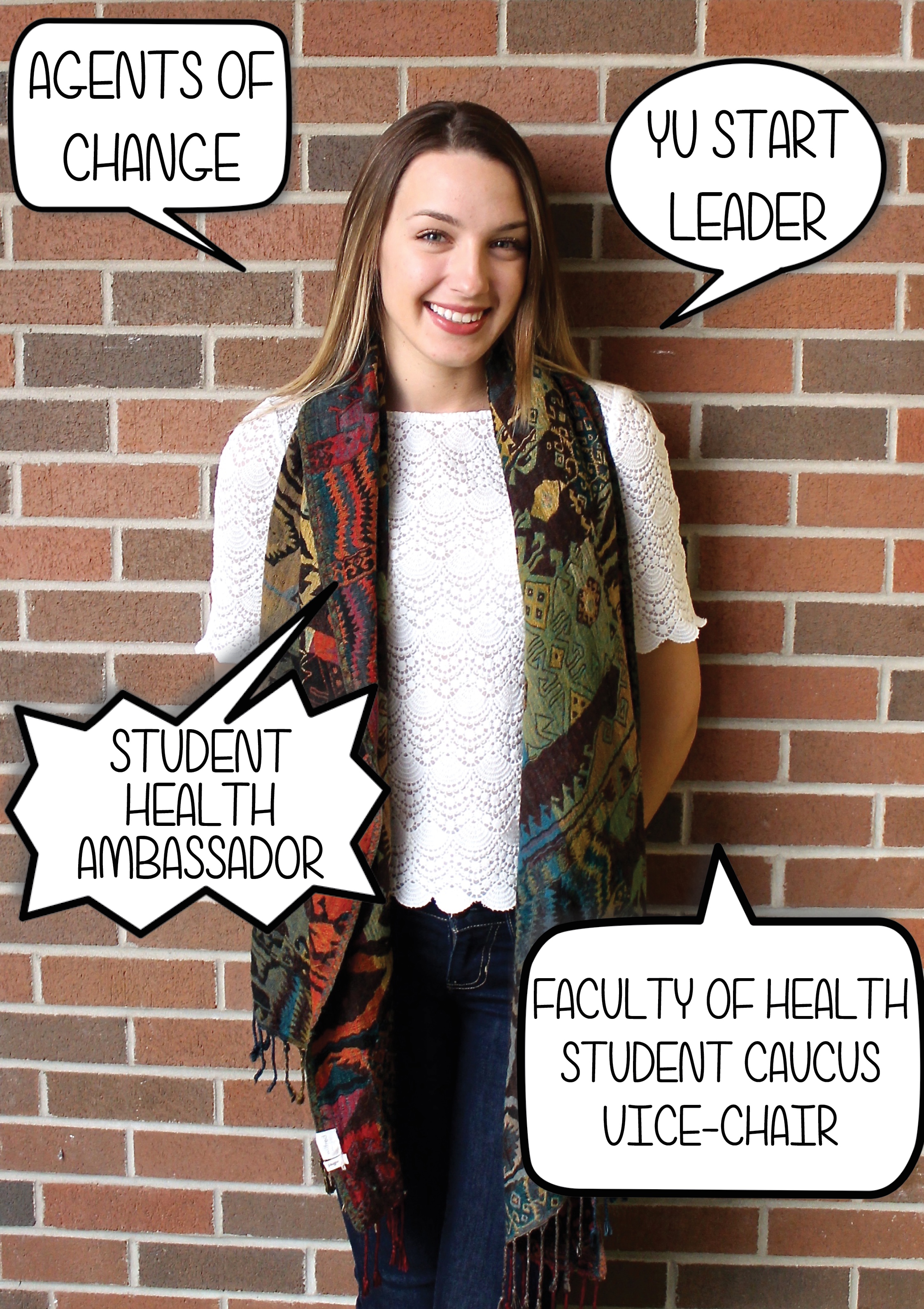 Liza Oulman - Coordinator, Agents of Change
What is the Agents of Change program?
The Agents of Change program is a student success program run out of Calumet and Stong Colleges. It is designed for students in Faculty of Health who are interested in gaining professional, leadership and entrepreneurial experience by running their own health based projects in the community. Students are supported by both the Colleges and Faculty, and are eligible to receive up to $500 dollars in funding.
What inspired you to get involved?
I have always looked at my university experience as an opportunity for self-discovery, learning and personal growth. My personal goal is to put myself in situations that are outside of what I am used to and will challenge me. I firmly believe that by placing yourself in these situations, it will enable you to develop personal qualities and skills that will benefit you for years to come. Getting involved in co-curricular activities presented itself as an opportunity for me to step outside of my comfort zone.
What activities were you involved in over the years?
My co-curricular involvement on campus has been focused within the Faculty of Health, Calumet and Stong Colleges. My passions are in student success, leadership and health. I am always looking for new opportunities that will allow me to integrate these passions in order to develop myself as a leader and gain new perspectives on health.
As the student coordinator for the Agents of Change program, I am involved with the planning, development and execution of the program. I also act as a mentor to support students in their initiatives. In the past, I have also worked as a YU START leader, guiding students in their transition from high school to York University. Aside from work experience, I have also taken on a variety of student leadership positions. I have been a member of the Faculty of Health Student Caucus for three years and I was elected as the Vice-Chair for the current academic year. Working with the FHSC has been a valuable experience in my undergraduate career as it was my first leadership position and opened up doors to many new opportunities. I am also a Student Health Ambassador at York (SHAY) for the Kinesiology and Health Science program. As an ambassador, I talk to prospective students about my undergraduate experience and the Kinesiology program.
Being involved in co-curricular initiatives has allowed me to develop a sense of connection and feel as part of the wider York University Community. I have been able to develop many life-long connections and supportive relationships with peers and colleagues. However, the most important outcome that I have gained from my experience is my sense of confidence. Taking on leadership roles has challenged me in new ways and opened up new perspectives on thinking about certain issues. I am motivated to step outside my comfort zone in pursing my ideas, beliefs and passions. In the past, I would find myself avoiding situations that presented themselves with a degree of uncertainty. Now, I am constantly looking for new ways to challenge myself and enhance my potential as both an individual and leader.