When:
June 26, 2019 @ 1:00 pm – 4:00 pm
2019-06-26T13:00:00-04:00
2019-06-26T16:00:00-04:00
Where:
Calumet College Room 129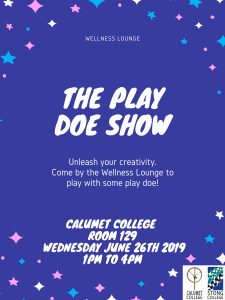 Remember the good old days? That sweet, rubbery fragrance? The infinite creative possibilities?
Well, then you will be pleased to know that the Wellness Lounge is hosting "The Play Doe Show"!
This is your chance to play with some doe. Creativity level ranges from snake to spider and more!
Unleash your creativity in Calumet College Room 129 on Wednesday, June 26th, 2019 from 1 pm to 4 pm.