Allow us to offer you a few tips for starting this year with a boom!
---
Tip #1: Yoga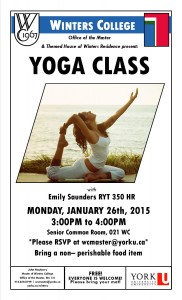 Why is Yoga Beneficial to Me?
According to the Huffington Post, some benefits of regular yoga include:
1. Improved Brain Function
2. Lower Stress Levels
3. Lower Blood Pressure
4. Improved Lung Capacity
5. Anxiety Relief
6. Improved Sense of Balance
6. Stronger Bones
7. Healthy Weight
8. Lower Risk of Heart Disease
9. Reduced Chronic Neck Pain
10. Lower Blood Sugar Levels in Diabetics
YFS hosts Yoga every Wednesday between 1& 2PM from January 21st to March 4th in Room 430 of the Student Centre! Furthermore, Winter's College holds a monthly yoga class with instructor Emily Saunders every month during the school year. This month's class takes place on Monday, January 26, 2015 from 3:00 - 4:00 pm in the Senior Common Room 021 Winter's College.
To contact YFS, click here.To reserve your seat at Winters College Yoga, RSVP here.
---
Tip #2: Exercise & Fitness
York University has our own fitness centre: Tait McKenzie Centre.
Did you know that Tait McKenzie Centre offers instructional lessons on a weekly basis? How about Intramural competitions or swimming classes?
Whether beginner or advanced, with a $15 gym membership, there is a ton you can do.
What does this facility have?
11,000 square-foot Fitness Centre with 58 cardio machines, 29 selectorized machines, functional training apparatus and free weights
4 gymnasia
5 studios
6 North American squash courts
25-metre swimming pool
Outdoor facilities: 9 tennis courts, 5 playing fields, Stadium, 2 softball fields
See hours of operation and more by clicking here.
---
Tip #3: Meditation

The Healthy Student Initiative at York University hosts mindful meditations both in person and online without prior appointments.
The Healthy Student Initiative is an ongoing research program. They collect data throughout semesters. These sessions are open to everyone at no cost.
In-person sessions:
Mon-Thu (12-1PM) at 102 Behaviourial Sciences Building (BSB)
Fri (12-1PM) at 360 Stong College (SC)
Online sessions:
Tue (4-5PM, 9-10PM)
Wed (9-10PM)
Thu (7-8PM, 9-10PM)
Have questions? We recommend you read the frequently asked questions.
---
Tip #4: Jogs & Nutritious Meals
The Health Education & Promotion group at York University provides students with various programs from healthy eating to active living.
The Nutrition Team actually has a blog solely caters to assisting you in food preparation. To view it, click here.
The Active Living Team conducts a Running Relief program every Monday, Tuesday, Wednesday. To run along or learn more, click here.
When contacting Health Ed, your questions will be answered within 24 hours or you can book an appointment.
---
Tip #5: Dance Away
Have you ever tried Contra-Dancing?  Contra-Dance has mixed origins originating from the 17th century English and French dance styles. It is usually done by partnering up facing each other, or in groups of four.
Winters College is hosting it once a month. This month, it will be happening on Thursday, January 8th, 2015 from 4PM-6PM in Winters Junior Common Room (012 WC).
Whether you dance or not, beginner or advanced, individual or in a relationship - everyone is welcome!  A healthy mind involves having some fun learning something new!
To reserve your spot, RSVP here.
---