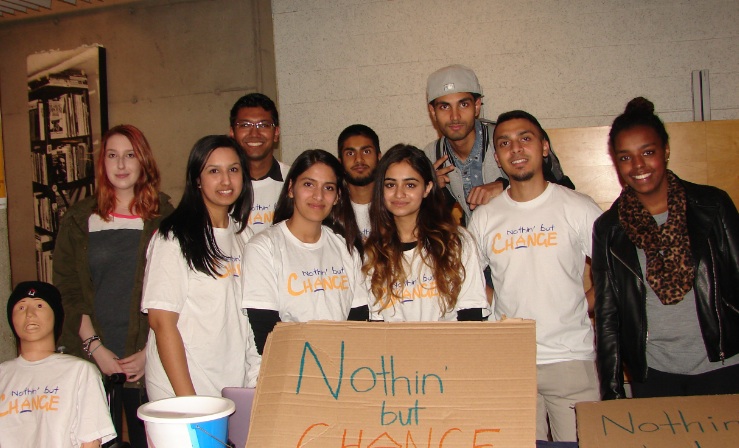 Created By: Syed Ali, Mustafa Mohamedali, Hussain Abbas
Nothin' But Change is a project at York university which is organized by three students who have a desire to better the housing situation in the greater Toronto area.
Their mission is to raise awareness about homelessness in the GTA and accrue funds to help people experiencing homelessness. While it is important that the project is able to help the cause of homelessness, the team places great importance on making sure that their project is sustainable for many years to come, and will empower people to make a difference against homelessness. In all, the vision is to provide leadership and support to end homelessness.
Specifically, the project involves selling custom American Apparel t-shirts on which the Nothin' But Change trademarked logo is printed. The team chose to go with American Apparel, out of all brands, because they valued quality and knew that the company has a sweat-shop free history. As well, Nothin' But Change has partnered with 360Kids, Raising The Roof and the Homelessness hub to sell socks and toques as part of an annual toque campaign.
In the future, the team envisions the creation of a ratified club at York University for Nothin' But Change and hope to start chapters in other universities as well. Throughout the year, they plan to organize events which are built around their mission and vision.
For more information please contact: hello@nothinbutchange.com
Website: nothinbutchange.com